Please use the navigation bar located on the right to access any of our informational pages.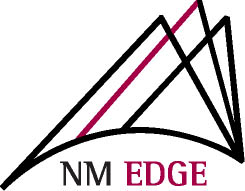 NM EDGE (Education Designed to Generate Excellence in the public sector), a service of New Mexico State University's Cooperative Extension Service, is a program designed to provide a comprehensive course of study to administrators, managers, elected officials, and staff in local, state, tribal, and national government. Through this program, participants can acquire and apply best practices, theories, and strategies based on the highest professional standards.
The mission of NM EDGE is Better Government through Education. 
---
Announcements
---
2023 Calendar of Events
NM EDGE 2023 Calendar of Events
We occasionally made updates to this document so please make sure you are referencing the most recent version: UD 3.29.23
---
2023 Preset Class Rotation
In an effort to help students better plan for when classes needed for certification completion will be offered, we have developed a preset class rotation for each 2023 Honing Event. If you have any questions please contact us at nmedge@nmsu.edu
Classes Offered by Honing Event
We occasionally made updates to this document so please make sure you are referencing the most recent version: 1.4 UD 111822
---
Attention: If using a credit card to pay for classes, a 2.75% transaction fee will be added to the total purchase amount. There is no fee to pay by check or purchase order. Should you have any additional payment or invoicing questions, please contact Lydia Duran at 505-224-4057 or lydherre@nmsu.edu. We thank you for your understanding!
---
Upcoming Events
---
Registration Open for June Honing 
Throughout the month of June, we will be offering online and in-person classes.
T is for Training on Tuesdays and Thursdays
Online classes via Zoom will be offered on June 6th, 20th, 22nd, 27th, and 29th.
In addition, please make plans to join us for in-person classes in Farmington during the New Mexico Counties Annual Conference. In-person classes will take place on June 12th and 13th.
Based on student input, the following classes have been added to the June schedule in addition to those listed on the Class List by Honing Event:
AO 104, AO 108, AO 118, AO 206, CES 109, CPM 131, CPM 133, CPM 135, CPM 141, CPM 143, CPM 144, CPM 151, CPM 154, CPM 223,CPM 226, CPM 236, CPM 241, CPM 242, PE 271, TO 203, and TO 204.
NM EDGE also has a new Tax Policy Professional Certification.  The following Tax Policy classes have been added to the June calendar:
TAX 101, TAX 102, TAX 103, TAX 104
For a full schedule of events, please refer to our June Honing Roadmap.
NM EDGE June 2023 Honing Roadmap
To register for June Honing classes, please visit our enrollment site:
---
Registration Open for July Public Purchasing Classes
Registration is now open for the July Foundations Public Purchasing Certification classes as well as the 1st - 4th time recertification classes. These classes will be held live and online. 
To register for the July 11 -14 Public Purchasing Foundations classes or for recertification, please visit our enrollment site:
For enrollment assistance, contact Corinna Cogburn at 505-224-4059.
Chief Procurement Officer Frequently Asked Questions
---
---
Certificate Audit Submission Information
Our Spring Audit Window is now closed.
Our Summer Audit window will be open June 6th, 2023 through July 6th, 2023.  During this time, you may request an audit of your completed classes to determine if you have met the class requirements for certification. 
If you have completed classes toward a certification, be sure to submit an audit during this open audit window.
Go to the NM EDGE Student Record and Enrollment Site.
Using the navigation bar on the left, select Certification Audit. Use the arrow to show the menu of certification choices, select the audit you want, and then submit. Please press submit ONLY once.
**NOTE** If you receive a "system error" message when processing the audit request, please let us know. We recommend that you submit an audit request via email to nmedge@nmsu.edu at that time.
The audit is to verify that you have completed all of your classes, and to assign you an Academic Advisor to work with you on your Culminating Experience, and to prepare you for graduation.
For those of you who have completed all of your CPS and CPM classes, the Assessments are by invitation only, so please submit an audit and we will get back to you. Once we know who qualifies to be invited, we will notify you and set the date.
Thank you for your help as we strive to support you in achieving your goals.
Best wishes! Your NM EDGE Team
---
---
It's official! NM EDGE/NM CPM has earned accreditation to 2023!
Thank you to NCPMC, NM EDGE Team, our NM Public Service Partners on our Advisory Board, our Public Servant Students, our Public Service Practitioner Instructors, and NM Cooperative Extension Service!
---
---
Helpful Tip Sheets
---
---
Our Team
---
---
The NM EDGE (Albuquerque)
NMSU ABQ Center
CNM's Montoya Campus Montgomery at Morris
Tom Wiley Hall TW 206
Phone: 505-224-4059
Email: nmedge@nmsu.edu