Please use the navigation bar located on the right to access any of our informational sites.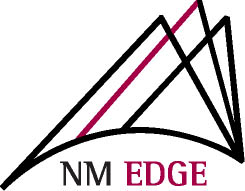 NM EDGE, a service of New Mexico State University's Cooperative Extension Service, is a program designed to provide a comprehensive course of study to administrators, managers, elected officials, and staff in local, state, tribal, and national government, through which participants can acquire and apply the best practices and theory to their management behaviors and strategies using the highest professional standards.
---
Announcements 
---
Input for Winter Honing is Open Until October 7th
Do you have a class you would like to see offered during our Winter/January Honing Event?  If so, please take a moment to complete our Winter Honing Input Survey.
https://www.surveymonkey.com/r/Input_NMEDGE_January2023
---
The 2023 Calendar of Events is now available! 
NM EDGE 2023 Calendar of Events
---
Attention: If using a credit card to pay for classes, a 2.75% transaction fee will be added to the total purchase amount. There is no fee to pay by check or purchase order. Should you have any additional payment or invoicing questions, please contact Lydia Duran at 575-646-0335 or lydherre@nmsu.edu. We thank you for your understanding!
---
News from the NM EDGE
Upcoming Events...
September Honing Your NM EDGE
T is for Training Tuesdays and Thursdays
Registration for our September 8th - September 29th Honing event is now open.
Please visit our NM EDGE Registration Site to enroll today!
September Honing classes will be held live online via Zoom and we will offer free Zoom training to assist you. Please contact us with questions or concerns by emailing nmedge@nmsu.edu.
---
October 2022 Public Purchasing CPO Classes
October 11th -14th Public Purchasing Foundation Classes & Test: NMP 143, NMP 101, NMP 102, NMP 105, NMP 103A, NMP 103B, NMP 001. Classes will fill fast so don't delay register today!
October 18th: Public Purchasing 1st Recertification Classes: NMP 142 and NMP 211 (must take both classes)
October 19th: Public Purchasing 2nd Recertification Classes: NMP 212 and NMP 212 (must take both classes)
October 20th: Public Purchasing 3rd Recertification Classes: NMP 214 and NMP 215 (must take both classes)
---
November 2022 Advanced Purchasing Classes Part II
Registration for our November 14th - November 18th Advances Purchasing Classes Part II is currently open.
To register, please visit our enrollment site: NM EDGE NM EDGE Registration Site.
---
Zoom Live Online Class Information
Please note that the NM EDGE is currently delivering the majority of our classes using the Zoom videoconferencing platform.
You will need the following to participate in these NM EDGE online live Zoom classes:
Access to the internet using a device/computer with a camera and microphone (most laptops, iPads or similar device have these). You will need to leave your camera on during the entire class.

You will need to have a quiet spot from which to participate (no distractions in the background, please).
You will take the pre and post-tests online, too, so be mindful of the screen size.
You will be emailed information about Zoom "practice sessions" and we recommend that you attend one practice to learn how we plan to use zoom for these classes.
The day before the classes you will be emailed a zoom link to access the class.
Access to the pretest is open 15 minutes prior to the start of class. Pre-test and post-test links are provided in class. Materials are emailed after everyone has completed the pretest.
If you are taking Public Purchasing Classes to earn your Chief Procurement Officer designation or to recertify your CPO designation, you will need to provide a photo ID or the final test on Friday - more information will be given during class.
If you are taking recertification classes for Chief Procurement Officer (CPO), please login to your NM EDGE Student Record and double check your contact information including your mailing address, CPO number, and phone number (all are required in the report we provide to State Purchasing).
If you are seeking recertification for your Chief Procurement Officer designation through State Purchasing and are not able to participate in a live online class during the quarter that your certification expires, you can request a temporary waiver from State Purchasing (see the State Purchasing Division website for the Director's statement about this).
If you do not feel you are able to participate in these classes with the requirements as specified, you may remove yourself from the classes by logging in to your student account and clicking remove.
Please contact us with questions or concerns by emailing nmedge@nmsu.edu.
Thank you for your ongoing commitment to Better Government through Education.
Sincerely,
Your NM EDGE Team
---
Certificate Audit Submission Information
Our Summer Audit Window has now closed. The Fall Audit Window will be open from September 7th, 2022 to October 7th, 2022.
If you have completed classes towards a certification, be sure to submit an audit during an open audit window.
Go to the NM EDGE Student Record and Enrollment Site.
Using the navigation bar on the left, select Certification Audit. Use the arrow to show the menu of certification choices, select the audit you want, and then submit. Please press submit ONLY once.
**NOTE** If you receive a "system error" message when processing the audit request, please let us know. We recommend that you submit an audit request via email to nmedge@nmsu.edu at that time.
The audit is to verify that you have completed all of your classes, and to assign you an Academic Advisor to work with you on your Culminating Experience, and to prepare you for graduation.
 
For those of you who have completed all of your CPS and CPM classes, the Assessments are by invitation only, so please submit an audit and we will get back to you. Once we know who qualifies to be invited, we will notify you and set the date.
Thank you for your help as we strive to support you in achieving your goals.
Best wishes! Your NM EDGE Team
---
It's official! NM EDGE/NM CPM has earned accreditation to 2023!
Thank you to NCPMC, NM EDGE Team, our NM Public Service Partners on our Advisory Board, our Public Servant Students, our Public Service Practitioner Instructors, and NM Cooperative Extension Service!
---
Helpful Tip Sheets
---
Our Team
---
The NM EDGE (Albuquerque)
NMSU ABQ Center
Building K at CNM's Montoya Campus Montgomery at Morris
(in collaboration with CNM)
Phone: (575) 646-0314
Email: nmedge@nmsu.edu