The NM EDGE
Please use the navigation bar, located on the left to access any of our informational sites.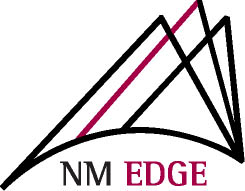 NM EDGE, a service of New Mexico State University's Cooperative Extension Service, is a program designed to provide a comprehensive course of study to administrators, managers, elected officials, and staff in local, state, tribal, and national government, through which participants can acquire and apply the best practices and theory to their management behaviors and strategies using the highest professional standards.
---
---
News from the NM EDGE
---
---
It's official! NM EDGE/NM CPM has earned accreditation for another 6 years!
Thank you to NCPMC, NM EDGE Team, our NM Public Service Partners on our Advisory Board, our Public Servant Students, our Public Service Practitioner Instructors, and NM Cooperative Extension Service!
---
---
---
Upcoming Events...
---
---
September 2019 Honing Your NM EDGE Class Enrollment is NOW OPEN!
Classes will be held September 16 - 19, 2019
LOCATION: CNM - WORKFORCE TRAINING CENTER, 5600 Eagle Rock Ave. NE, Albuquerque, NM 87113.
Here are a few recommended steps:
1) To check your transcript and enroll in classes visit our NM EDGE Student Record and Enrollment Site.
2) Visit our NM EDGE website for certification checklist information.
3) For a list of classes being offered, CLICK on the NM EDGE Road Map to Certification - September 2019 link below.
QUESTIONS? Please give us a call at (575) 646-0314 or send us an email: nmedge@nmsu.edu.
Thank you for your continued support of the NM EDGE program and please let us know how we can better support you in your pursuit of your educational goals!
Your NM EDGE Team!
---
---
---
---
Certificate Audit Submission Information
---
Audit Submission window is September 24 - October 19, 2019.
If you have completed classes towards a certification, be sure to submit an audit during the next Audit window, which is:
September 24 - October 19, 2019.
Go to the NM EDGE Student Record and Enrollment Site.
Using the navigation bar on the left, select Certification Audit. Use the arrow to show the menu of certification choices, select the audit you want, and then submit. Please press submit ONLY once.
The audit is to verify that you have completed all of your classes, and to assign you an Academic Advisor to work with you on your Culminating Experience, and to prepare you for graduation.
For those of you who have completed all of your CPS classes, please submit your audit right away. The CPS Assessments are by invitation only. Once we know who qualifies to be invited, we will notify you and set the date.
Thank you for your help as we strive to support you in achieving your goals.
Best wishes! Your NM EDGE Team
---
---
Helpful Tip Sheets
---
---
Our Team
Mary C. DeLorenzo, Program Director
Elia Galindo, Database Report Writer
Jeanine Eden, Program Coordinator
Chantel Barton, Sr. Fiscal Assistant
Marilyn Cimalore, Program Assistant
Corinna Cogburn, Program Assistant
The NM EDGE (Albuquerque)
NMSU ABQ Center
Building K at CNM's Montoya Campus Montgomery at Morris
(in collaboration with CNM)
Phone: (575) 646-0314
Email: nmedge@nmsu.edu

The NM EDGE (Las Cruces)
NMSU Main Campus
Gerald Thomas Hall
Room 275
Las Cruces, NM 80003
Phone: (575) 646-4304
Email: nmedge@nmsu.edu

The NM EDGE (Santa Fe)
4001 Office Court Drive
Suite 308
Santa Fe, New Mexico 87507


Email: nmedge@nmsu.edu